A few weeks ago, we had some busy bee visitors come in town to help us knock out some yard work.  Within one day, here is what was accomplished:
Built 4 Raised Beds
Cleared Grass Beneath Beds
'Installed' Raised Beds
Purchased 5 – 15 Gallon Trees
Planted Trees
Raised Beds
I'll most likely write a more detailed post on building the raised beds, but for now, here are just a few quick shots of the process.
[seriously...the energizer bunny]
In the weekends following , Ryan and I made several trips to The Ground Up to get a few cubic yards of really good raised bedding soil.  This is what each of the beds will hopefully be sprouting soon:
Bed #1
Herbs (plants)
Zinnia (seeds)
Bed #2
sugar snap peas (seeds)
carrots (seeds)
beets (seeds)
Bed #3
red sails lettuce (seeds)
jericho lettuce (seeds)
majesty lettuce (seeds)
buttercrunch lettuce (seeds)
arugula (seeds)
Bed #4
tomato plants (not yet planted)
cucumber seeds (not yet planted)
[quarantined the mint to a pot so it wouldn't completely take over!]
Planting the Trees
We decided to get three Schumard Red Oaks and Three Chaste or Vitex Trees. We placed the Vitex trees (a lovely blooming tree with purple flowers – image below) along the back of the fence which will hopefully stop your eye before being drawn to the giant lot-hogging house behind us. There is one Red Oak in the back left corner and two in the back right corner.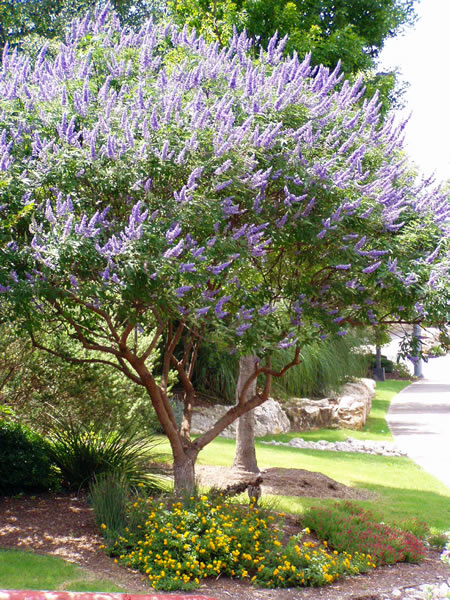 [hopefully our Vitex tree will look like this before we know it!]
[David, our awesome neighbor, come over to lend a hand]
One month later, our red oaks have really filled out with fresh green leaves, my herbs are starting to flourish and there are even signs of life with the Vitex trees!
[my thyme is already creeping]
I had no idea that such a love of gardening had been instilled in me – I guess all of those years with my little garden patch in the backyard growing up really stuck with me (thanks Mom!).  Honestly, there isn't much I would rather be doing than working out in my garden – this could change when the Houston summer rolls around : )  Appreciate all the backbreaking work my family did to get our yard started!!
P.S. I saw my first lettuce sprout yesterday, which was only 4 days after being planted.  Talk about immediate gratification!